Preliminary Booster Use Induction Experiment
Waiting for something is pretty boring. It's a story that anyone can relate to without having to bring up a grandiose psychological theory. The problem is that from real-life services to mobile games and app services, there are inevitable situations that make customers wait. Fortunately, if you look at existing psychological studies on waiting, you can find key points that can make waiting a little less boring.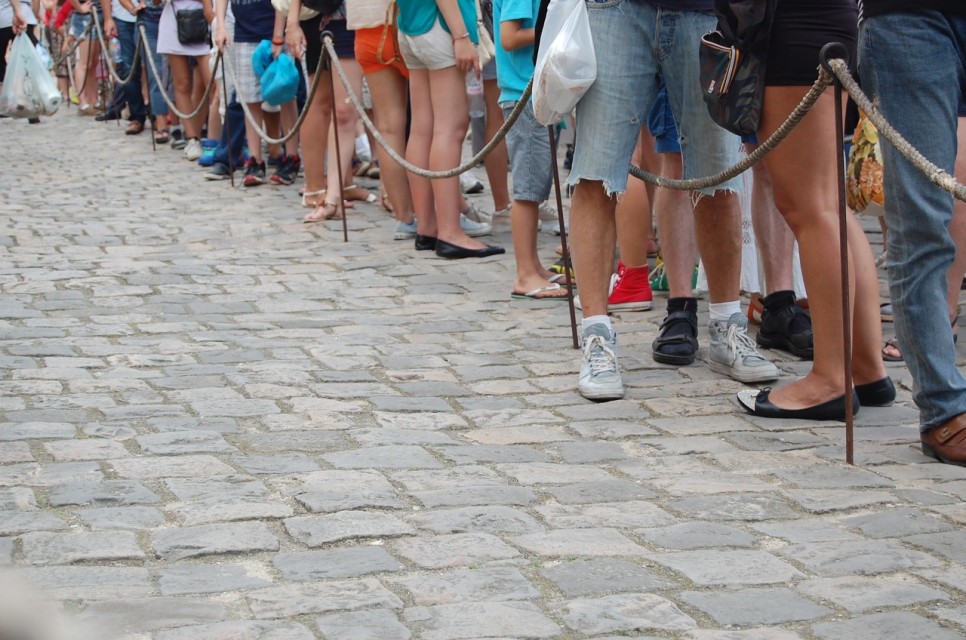 https://www.hardens.com/wp-content/uploads/2017/07/people-431943.jpg
1. Clarity: People are less bored if they know the clear goal or estimated time of waiting. Typical examples are queue tables distributed by banks and the time remaining until delivery shown by the delivery app. Kim Go-eun's research is also a good example. The researchers asked one group of the participants to understand why and how long they had to wait, and asked the other group to wait without asking for understanding. As a result, the group that asked for understanding waited more patiently than the group that didn't.
​
2. CAUTION: According to a study by Christopher Hsee, providing something to remind you not to be lazy in waiting is less boring [2]A mirror in an elevator, a TV set in each hospital room, are examples. The story of Houston Airport, which dealt with customers' claims that baggage collection takes too long, is also quite famous. Houston airport did not want to reduce the total time it would take to simply find luggage to settle the claim. Rather, the arrival gate was moved away from the baggage terminal, causing passengers to walk for 12 minutes instead of simply standing and waiting for 12 minutes, but the claim was almost gone [3].
​
3. Quick completion: If the wait ends earlier than expected, the resulting boring experience will be diluted. Richard Larson, a researcher at MIT, says Disneyland shows that the estimated waiting time provided to passengers on rides seems to be longer than the actual expected waiting time [4]I thought it would take an hour, so I was waiting, but I was so happy to be able to enter in 30 minutes. Anyone can relate to it if they've been in the waiting line.
Even in mobile games, there are times when users have to wait bored. Resource patch time. Game developers are concerned about optimizing build capacity, even considering global engagement with poor network environments. That's why after installation, resource patches are used primarily to make additional data downloadable.
Marvel Future Fight's Resource Patch Screen
Unless it's a game with light build capacity in the first place, such as a hypercasual or casual genre, resource patches are inevitable. In addition, when you need to make light updates without submitting a build to the app store or Google Play, most of them use resource patching. Therefore, users often wait for as little as a minute or as long as 5-10 minutes, depending on network conditions, while downloading tens to thousands of MB of additional data. In the worst case scenario, the user can't stand this wait and either give up installing the game or think that they'll enjoy the game next time. And the developer sees the retention data and finds that users are more bothered by the "next chance" than they think.
To make the waiting more enjoyable
Apple enforces through item 4.2.3 of the App Store Review Guidelines that 'if you need to download additional resources when using the app, you must notify the user of the size of the resources to download before proceeding.' [5]Fortunately, thanks to these policies, most games are more or less adhering to the definition. Furthermore, NCsoft's Lineage 2M provides users with information such as the time remaining in the resource patch. Deb Sisters' Cookie Run: The oven break also teases you through illustrations and videos about what content or new characters you can enjoy through the resource patches you're doing. This allows users to better understand the goal and progress of waiting, and even feel anticipation.
Top: Resource Patch Screen on Lineage 2M / Bottom: Cookie Run: Resource Patch Screen on the Oven Brake
And there's also a game that pays attention to the ventilation. Games such as Pearl Abyss' Black Desert Mobile, Netmarble's Seven Knights, and Everyone's Marvel provide mini-games that users can enjoy while waiting, drawing their attention. Users don't just wait for the progress bar to fill up, but they have a short but enjoyable experience through mini-game play. Apple recommends that when a separate resource patch is required after the initial installation of the game, the patch download proceeds in the background when the game is played and the user is not waiting to access the game content immediately [6]. Blizzard's Hearth Stone is a good example of this recommendation.
Top: Black Desert Resource Patch Mini Game / Bottom: Seven Knights Resource Patch Mini Game
Finally, the client programmer can adjust the download priority of the resource files to patch so that users feel that the resource patch is complete faster than they think. In fact, the goal of this task is to organize resource files more efficiently in light of mobile device environments where communication is limited at a time [7], but as a result, users experience slow progress at first receiving heavy files, and then download light resource files at the end. You can feel the joy when the wait is over sooner than expected.
Everyone's Marvel (NetMarvel): Download heavy resource files first, and lighter resource files as they approach completion.
Making the user wait less boring or more enjoyable is cumbersome for developers, but worthwhile enough. Traditional psychological studies of waiting provide a good solution to make mobile game users less bored or more enjoyable in situations such as resource patches.
​
1. Provide information about the time remaining, as well as information such as resource patch capacity and progress, or teach content so that users can expect to complete resource patches.
2. Provide a variety of entertainment and attractions, such as mini-games and videos, so that users can wait less bored or more pleasantly.
3. Adjust the download priority of resource files so that users feel faster download speeds over time.
​
[1] Lee Goeun and Shin Hyunjung. (2012). The effect of attention variance, reasons for waiting, and time cues on estimating waiting times. Cognitive Science, 23(1), 73-95.
[2] CK Hsee, AX Yang, L Wang. (2010). Idleness aversion and the need for justifiable busyness. Psychological Science, 21(7), pp. 926-930
[3] https://www.nytimes.com/2012/08/19/opinion/sunday/why-waiting-in-line-is-torture.html?smid=fb-share&_r=0
[4] https://www.washingtonpost.com/news/wonk/wp/2015/11/27/what-you-hate-about-waiting-in-line-isnt-the-wait-at-all/
[5] https://developer.apple.com/kr/app-store/review/guidelines/
[6] Because of this policy, some developers submit the release version to the review in what is called a 'tong build'.
[7] When patching resources, users can receive multiple files over the network at once. But it's not something you can get indefinitely at the same time. Usually, you can receive 1 to 10 files at the same time. For example, suppose that you receive three files at the same time, each file is placed in three download lists, and the rest is placed at the end of one file. At the end of the day, if a large file is left, you can download three files, but you can download only one file, which can lead to a relatively slow download.
*Original source: https://brunch.co.kr/@jaehyunkim